Soulful Sands
Yoga + Meditation Beach Retreat
October 3-6
Orange Beach, AL
Check in October 3 @ 4pm, Opening Circle @ 5pm
Check out October 6 @ Noon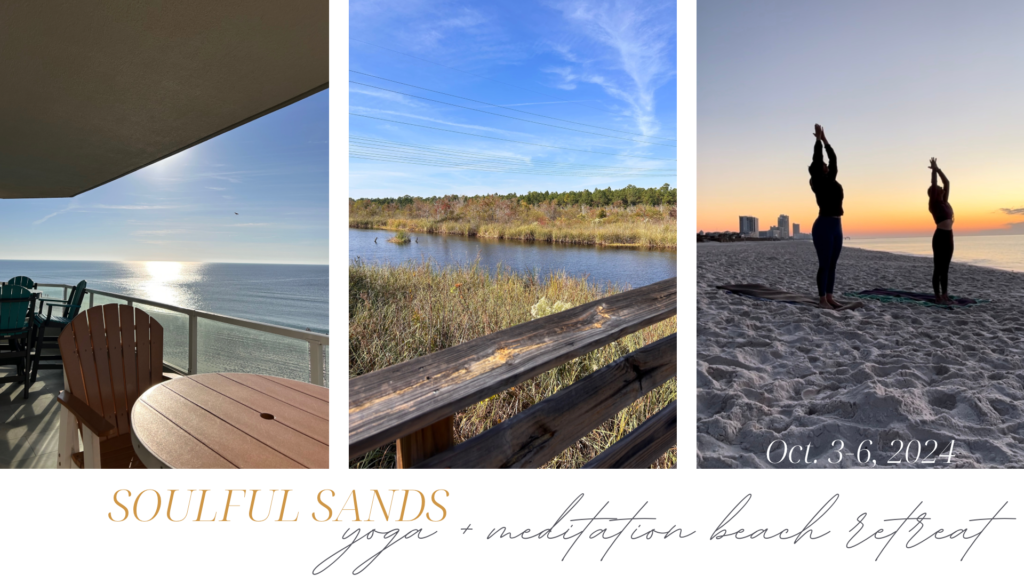 Join Natalie and Dana for a weekend of yoga, meditation, hiking, private beach access, ocean balcony views, prepared meals, and more! October 3-6 2024 in Orange Beach, Alabama.
We have two corner condos in the beautiful Silver Beach Resort. See the lodging options below.
Master Balcony View: A master with an en suite bathroom and balcony access from the room.
Single Balcony View: This is a single bed, bathroom across the hall, with balcony access from the room.
Bunk Room: This room sleeps two and does not come with a balcony view. Living space and kitchen have balcony access.
The condos have GREAT ocean views from the large balcony that wraps the corner condos.
Registration opens March 2024.
Policies are defined below. By registering and paying you agree to the below policies.
Reservation Policy
Non-Refundable deposit of 50% of the total value to secure your place. An email with all details will be sent after the deposit. Balance is due in full 30 days prior to retreat. If you are registering within the 30 days prior to you will be expected to pay in full at the time of registration.
Cancellation Policy
In the event that you have to cancel your booking the deposit will NOT be refunded. If you have paid in full we will refund half of the total paid as the deposit is NON-REFUNDABLE. All bookings are FINAL 30 days prior to retreat date. NO REFUNDS will be issued once bookings are finalized, thirty days prior to retreat date. We understand that life and unforeseen circumstances arise, however, we also have expenses to make the whole thing possible as well as other people to pay. Yogadāna and any of our hosts or teachers, are not responsible for any expenses or damages incurred as a result of trip cancellation including preparation costs, airline tickets, or other expenses.
Waivers & Releases
I agree that I am solely responsible for my own health and safety at all times during the retreat. Neither the facilitators nor the property owner shall be held liable for any injury related to the retreat. I agree to assume the risks involved with the retreat in any way. I also agree to inform the appropriate person(s) of any movements or activities I feel my cause injury and I will be responsible for myself and NOT perform or attend in those things. I will inform the appropriate person(s) of any limitations or medical conditions that may affect my time at the retreat. I agree to treat my body with patience, compassion and respect during the retreat. I understand that I can stop and rest whenever I may need. I am aware that paying my deposit (or retreat in full if I have past the deposit deadline) that I am agreeing to these terms and releasing liability from the teachers and property owner.
Click the image below for registration.